Cabinets & Kitchen Design in Dryden, NY
At B&B Floor Coverings, our care for your home improvement goes beyond simple flooring solutions. Consult with our in-house kitchen designer for fabulous recommendations regarding cabinetry and much more. With the proper selection from our extensive assortment, you can keep your home or office organized and tidy. Our Dryden showroom is home to exquisite brands and professionals who can assist you with adding functional and fashionable features to any style of residence. From eclectic farmhouse charm to a contemporary design, we proudly offer designer names like Ultracraft™ and Mantra™ for a fashionable upgrade.
When to Invest in New Kitchen Cabinets?
A kitchen is a place where both cuisine and familial memories are brought to life. Whether you're hosting a dinner party with friends, entertaining loved ones, or baking a holiday treat for your family, we believe that every client deserves the kitchen of their dreams. Investing in new kitchen cabinets will ensure that the heart of your house is a calm and delightful environment. Without sufficient storage, even the largest kitchens appear claustrophobic and crowded. We can help you design new kitchen cabinets that maximize the available space to prep, cook, and store any culinary materials from your home. If your kitchen cabinets are broken, damaged, too small, or simply need a facelift, it may be time to consider an upgrade.
Designer Cabinetry by Ultracraft™ and Mantra™
Our inventory of cabinets and kitchenware features designer names like Ultracraft™ and Mantra™. B&B Floor Coverings strives to give you the aesthetic you desire while providing the storage you need. Our select name brands feature a range of hues, textures, and styles from paler shades of white, cream, and beige to richer tones of mahogany, maple, or cherry. If you enjoy a rustic approach, consider the shutter-style louvered cabinets or those with a distressed look for aged charm. For some contemporary flair, beadboard and inset cabinets continue to emerge as trending kitchen designs with bright, clean hues and accents.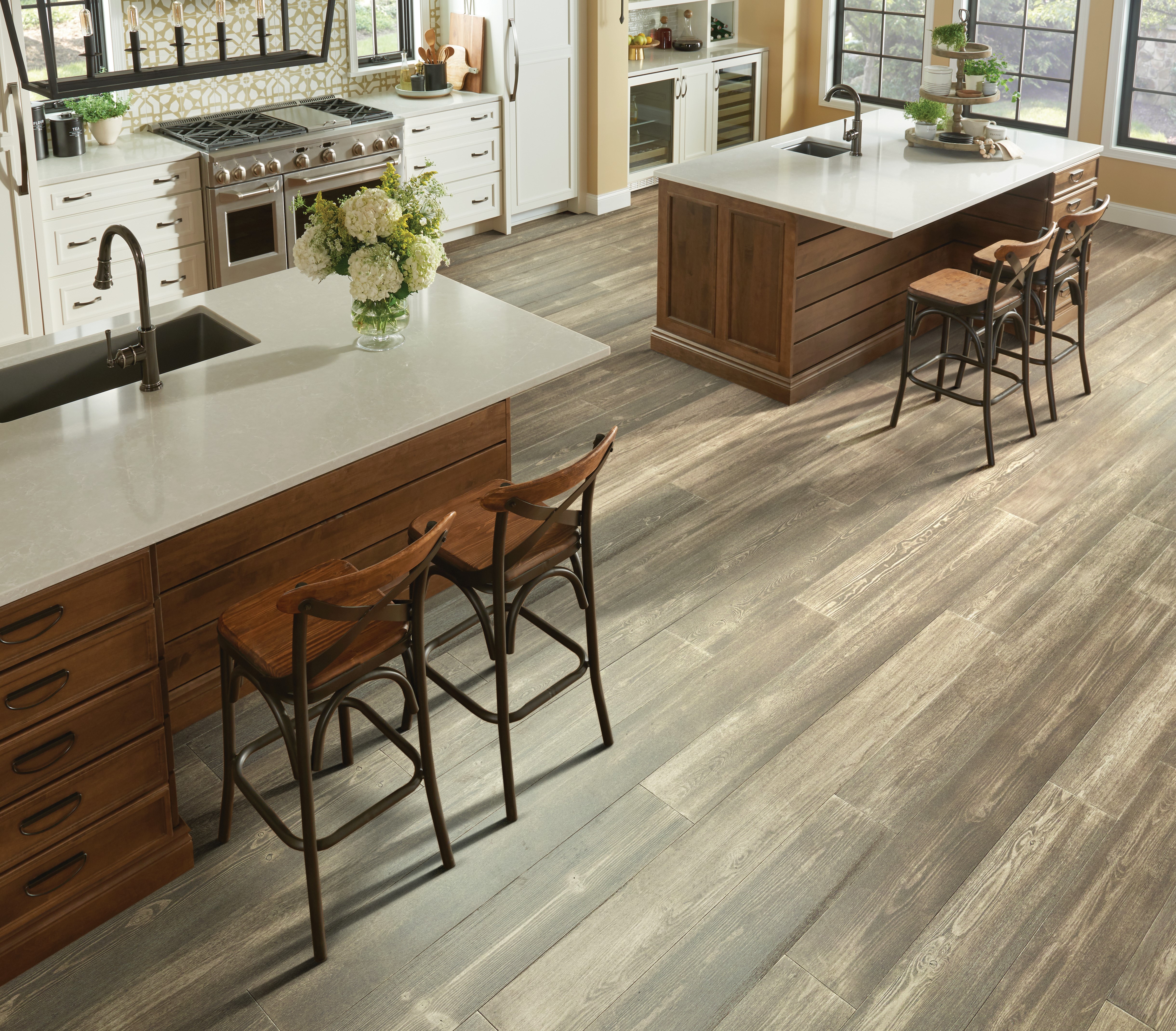 Professional Cabinet Installation Services
Our comprehensive services don't end after a consultation with an in-house designer. Following the purchase of your new cabinetry, rely on our dedicated installation professionals who specialize in cabinet installation. Our professional installation services allow you to start enjoying your new cabinets sooner than you ever imagined. We are completely dedicated to customer satisfaction when it comes to design and craftsmanship.
Total Kitchen Remodeling
A warm and inviting kitchen is the ideal place to meet, entertain, and unwind over a homecooked meal. Our in-house design experts collaborate with you to create a stunning layout that meets your style, budget, and practical requirements. A new kitchen design has numerous components, but we make it simple with a seamless combination of online tools, premium materials, and in-person design. You can pair any combination of flooring, countertop, and cabinet fashions with the help of our designers. Enjoy combined designs like the warmth of a solid-oak wrapped kitchen, complemented with stunning granite countertops and cherry cabinets.
Contact us to find the perfect cabinetry for your kitchen remodel. We serve Ithaca, Dryden, Cortland, Skaneateles, New York, and the surrounding areas.