Laminate Flooring in Ithaca, NY
A new laminate floor is an excellent investment for any room of your home or business. Here at B&B Floor Coverings, we offer a wide selection of high-quality laminate flooring to property owners and contractors throughout the region. Our team also provides complete installation services, making our showroom in Ithaca, NY, your one-stop shop for laminate floors.
Let us help you make your flooring dreams become a reality. Whether you prefer a modern or classic look, one of our highly trained associates is ready to help you select laminate flooring that suits your unique taste and needs. Tell us about your lifestyle and design preferences, and we will give you a wide variety of laminate plank flooring or laminate tile flooring options to choose from.
The Many Benefits of Laminate
Laminate easily lets you upgrade any room in your home or business. Our team of professionals can guide you through design options with all of the colors and textures of laminate you could want. Laminate mixes low maintenance, beauty, and durability into one affordable floor. You can get the authentic feel and appearance of high-end floors with this strong material. Whether you wish for wood or tile, laminate can meet your needs. Laminate flooring has increasingly become one of the most popular flooring choices on the market over the past few years. This is due to its ease of maintenance. Mopping, sweeping, and vacuuming are all it requires to stay clean, so you won't have to worry about spills.
Laminate boasts a solid appearance and has four distinct layers. It is manufactured with a base that protects against moisture and a core that can withstand even the heaviest of foot traffic. The wear layer is typically made from compounded melanin resin and aluminum oxide, which are elements that protect your flooring from stains and other markings. The top layer is decorative, allowing for a variety of patterns that can realistically mimic genuine wood or stone.
At our showroom, we offer a wide selection of laminate including laminate planks and tiles. Learn more about our selection:
Laminate Plank Flooring
Laminate planks allow you to get the same traditional look as hardwood flooring, but with a much stronger flooring solution. You can choose from a variety of wood grains in order to match the style that best suits your tastes. From rustic to modern, our vast selection has the right laminate flooring choice for you.
Laminate Tile Flooring
The benefits of tile-look laminate include ease of cleaning, durability, and versatility. Stone and tile add a richness to any living space and our laminate is able to replicate that. Each functional element offers the elegance of traditional ceramic, porcelain, or stone tiles. Choose from a vast range of designs and patterns.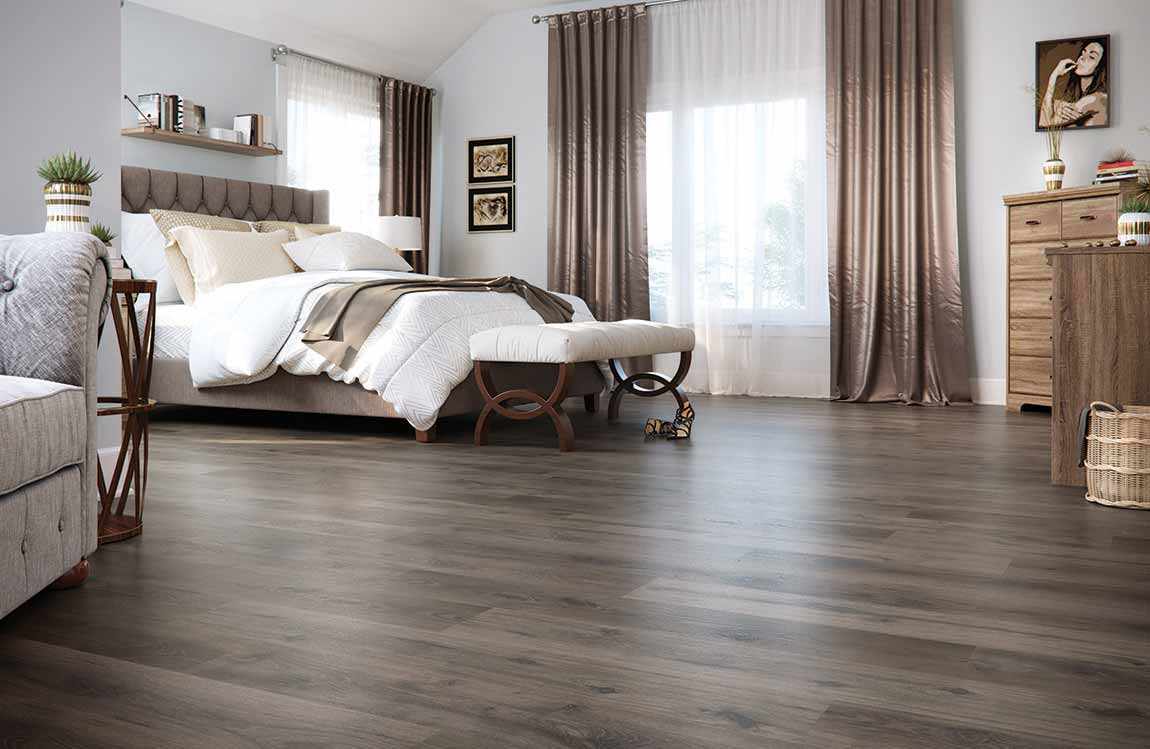 Expert Laminate Installation Services
Our flooring company handles every part of the process so you don't have to do a thing. We start with free in-home consultations by our professional designers and then move on to selection and inspection, which is performed by our superintendent with over thirty years of experience. Then comes laminate flooring installation, and when that's done we can even provide repairs and maintenance if the need arises. Whatever you need, we can help you! Just ask one of our friendly associates and we'll stick with you as long as it takes to give you your perfect laminate flooring.
Installing laminate floors goes much faster than the process of installing other flooring materials. Most laminate tiles and planks come with a built-in locking system that lets each piece of material conveniently and easily click into place, so glue and nails may not even be needed. Depending on your property, we may even be able to install it over your existing floor. The one thing you can count on is that it will be installed correctly the first time we do it because we're professionals who care about your satisfaction.


Contact us for a consultation on your new flooring. We sell and install laminate all over Ithaca, Dryden, Cortland, and Skaneateles, NY, and the nearby communities.