Drapes, Shades, and Blinds Crafted Beautifully to Accent Any Room
Window treatments are designed to be both practical and attractive. If you're looking for an easy, affordable way to enhance your home, consider investing in one of the treatment solutions available from B&B Floor Coverings in Ithaca, NY. Our selection includes a broad range of different options, all designed to deliver the results you desire. We would be delighted to provide you with recommendations for the style and functionality of your existing home decor. Our team of design professionals takes into account all of your needs when working with clients.
Whether you are tired of light streaming in your bedroom during the early hours or you simply want to add that special something to blank walls, a window treatment from us can add revived ambiance while adjusting the natural light and privacy levels of your home. From vertical blinds to Roman shades, you get to choose from the industry's most popular treatment styles when you shop at our store. We believe that even a simple added touch can tie a whole room together, and we strive to make this happen for our customers during our complimentary in-home design consultations. Our professional designers provide their very best every time and nothing less.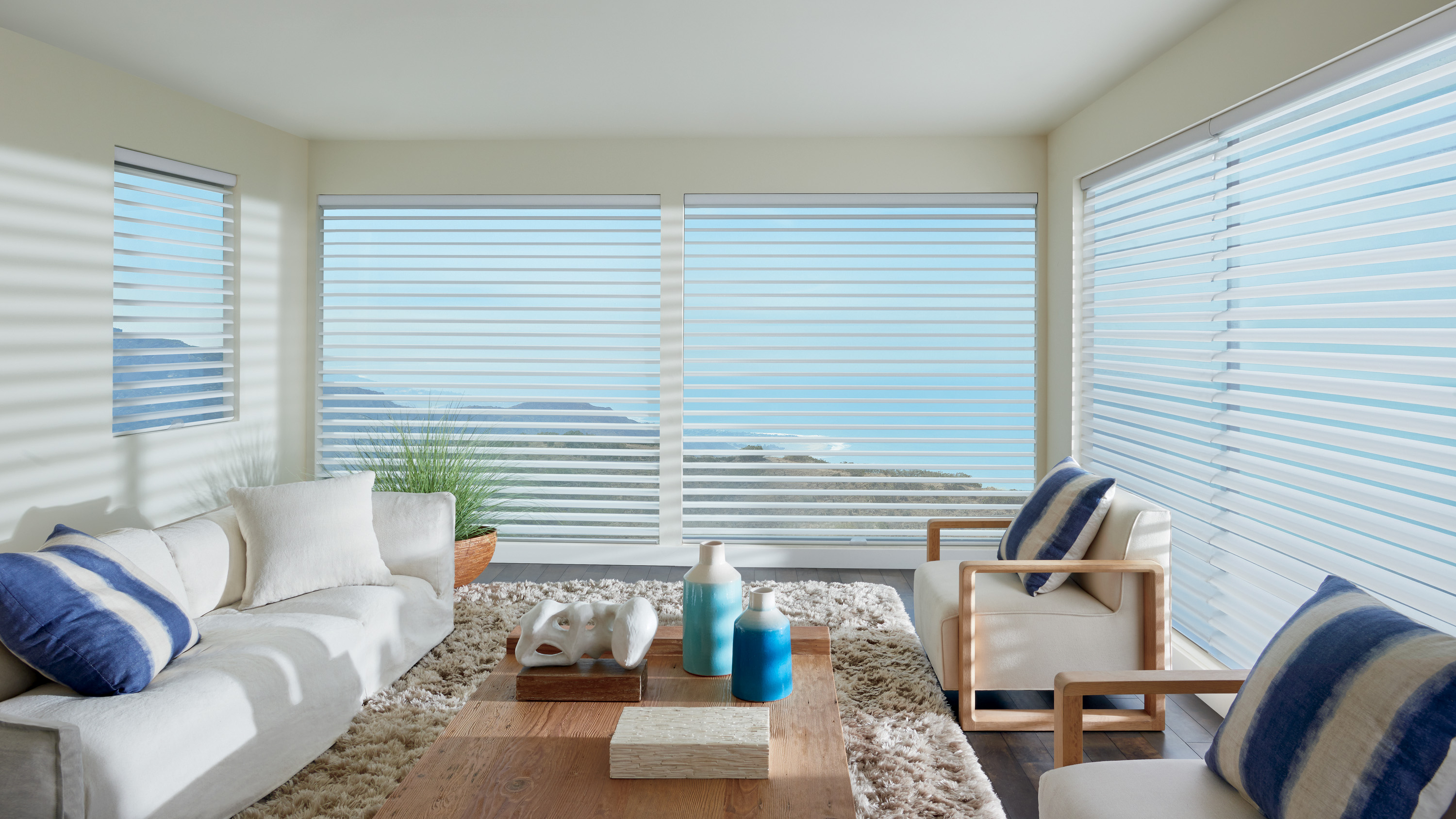 Why Choose Window Blinds?
Every aspect of your interior design works together in order to create the atmosphere you desire. Our business provides floor-to-ceiling products capable of taking any room in your home to the next level. To create a space that fulfills expectations in both look and function, allow us to help you select the perfect window blinds. Whether they're vertical or horizontal, blinds can be a big help in bringing in sunlight or a view when you want them and blocking them when you don't. When you buy them from us, they can also serve as a design statement.
Window blinds are a type of treatment that helps block unwanted light from entering through a window. Not only does this prevent UV rays from washing out floors and furniture, but it also regulates indoor air temperatures. With less strain put on your air conditioning system, you'll experience energy bill savings on a regular basis. Blinds are wonderfully easy to clean as well; just wipe them with a damp piece of cloth, and that's it. Home additions like these are minimalist in all of the best possible ways.
Other Window Coverings Carried
In addition to blinds, we are proud to offer our clients a number of other stylish window coverings that enhance existing furniture, paint, and décor. Our associates take the time to understand exactly what you're looking for, making the shopping process both swift and simple. As soon as we've narrowed down the selection of blinds, shades, and shutters to the types of treatments best suited to complement your space, you can make a purchase with the utmost confidence. Each option has something to offer, and you can rely on us to help you choose the best one for you. Rest assured we possess plenty of experience in doing exactly that for a widely diverse range of customers.
From traditional, modern, casual, and fun, we have window coverings for every taste. Browse the many colors, textures, and patterns in our showroom, and you're sure to find something you love. You're always welcome to share your visions and ideas with our design team, and they'll help you bring them to life with the best possible value. We're here to answer your questions and make your home realize its full potential. Don't hesitate to bring in photos or samples of what you have or would like to achieve.
Entrust Us with Window Treatments Installation
To ensure you are more than happy with your window treatment investment, we back your purchase with professional installation services. Our experienced, in-house technicians are fully equipped to install the many different renovation products on display at our showroom. When it comes to window treatments installation, these installers utilize trusted techniques and tools to ensure the completed job continues to impress far into the future. This long-term promise makes the short-term investment in our expertise well worth it.
From flooring materials to window treatments, you can rest easy entrusting us with all of your installation needs. We complete the job as quickly as possible so that any disruptions to your space are minimized. When we're done, the coverings, blinds, shutters, or any other type of treatment you may have purchased will fit in perfectly and operate easily. You'll be able to begin using it right away and enjoy the attractive aesthetic it offers your room. Not to mention, letting us install the product for you saves a lot of time and trouble.
Contact us today to learn more about accenting your home's decor with vibrant window treatments. We look forward to serving the homeowners of Ithaca and Dryden, New York, and the surrounding communities.